Buffalo and Connecticut standing with Israel now more than ever!
Buffalo and Connecticut standing with Israel now more than ever!
This Sunday, November 18th in Buffalo we will gather together in solidarity with the Jewish Community of the greater Buffalo region for Buffalo Celebrates Israel! Join us at Resurrection Life, 2145 Old Union Road, Cheektowaga, NY at 6pm. Special guest Rabbi Jon Hausman of Congregation Ahavath Torah in Stoughton, Massachusetts will be with us as our keynote speaker.
A few weeks later in Connecticut, Sunday, December 8th at 6pm, pastors and leaders will join together at Harvest Time Church, 1338 King Street, Greenwich, CT, for Connecticut Celebrates Israel! Deputy Consul General Daniel Agranov will be our special guest and keynote speaker that evening.
Now more than ever, we as a community of faith will join together to declare our love and support for Israel and the Jewish people. These impactful evenings promise to be exciting times together, with many leaders and members of the Jewish and Christian communities present as well as our special guests. These evenings are free and open to the public, and a special offering will be taken for Israel.
These upcoming dates and locations listed below are confirmed, so please join us! Other locations are being confirmed regularly so check back for more details. If you are interested in hosting a Celebrate Israel! event in your church or city please contact Dena DePasquale, our Events Coordinator at [email protected] or 908-956-1210.
If you are a pastor or business leader interested in co-sponsoring with others in your region, we will be having pre-event leadership receptions. Contact Dena for information on that also.
Mark your calendars for these upcoming dates and locations and plan to join us!
Upcoming Celebrate Israel Events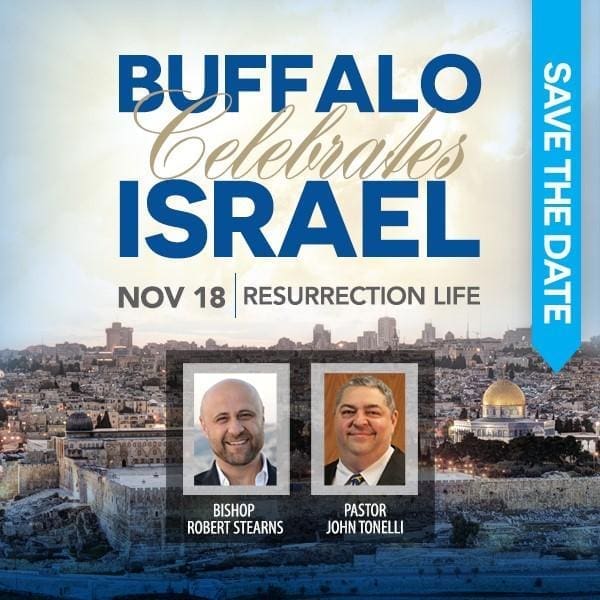 Buffalo Celebrates Israel!
Sunday, November 18, 2018 – 6pm
Resurrection Life Church
2145 Old Union Rd
Cheektowaga, NY 14227
Pastor John Tonelli
Connecticut Celebrates Israel
Sunday, December 9, 2018 – 6pm
Harvest Time Church
Pastor Glenn Harvison
________________________
Los Angeles Celebrates Israel
Sunday, February 10, 2019 – 2pm
Iglesia Cristiana Koinonia
Pastor Armando Osorio
________________________
New Jersey Celebrates Israel

Sunday, March 17, 2019 – 6pm
Abundant Life Worship Center
Pastor Joe Arminio