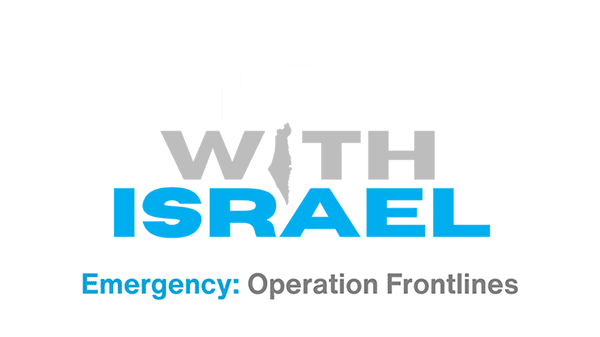 Together with Eagles' Wings, Stand With Israel and meet the practical needs at this critical time.
ISRAEL IS AT WAR!
On October 7, the fiftieth year anniversary of the Yom Kippur War, Islamic terrorist groups launched a surprise attack against Israel, firing thousands of rockets into the heart of major population centers, as well as many commandos infiltrating into Israel from Gaza, murdering over a thousand citizens and injuring over three thousand. While the people of Israel are strong and resilient, and Prime Minister Benjamin Netanyahu has declared, "We are at war, and we will win." Hundreds of thousands have been activated to defend and protect Israel.
THE PEOPLE OF ISRAEL NEED OUR HELP.
Eagles' Wings is raising $250,000 in this "I Stand with Israel" Operation Frontlines emergency campaign, working with trusted partners to support Israel in these strategic ways:
Our founder, Bishop Robert Stearns, just days after leading our largest group to Israel ever, was caught in the midst of a war in Jerusalem. Here he shares what he has seen and experienced while being in Israel during this horrific time and expresses the dire need for our support in this moment.
SHOW YOUR SUPPORT FOR ISRAEL.
Your urgent "I STAND WITH ISRAEL" gift RIGHT NOW will be a practical way to show your support and stand with the people of Israel.  Every gift will be a message of hope and care, not only helping to provide needed food, medical supplies, and protective equipment and responding to other emergency needs but also expressing God's love in a tangible way to His people.
For your best gift of $2 or more today, showing the strength of the bond between the 2 nations of America and Israel, we will send you a special Israel Allies Bracelet* as a reminder to pray for Israel continually during this urgent and challenging season for the land and the people. Request your bracelet today as you give your gift below.
*Actual bracelet design may vary slightly.

WHAT YOUR GIFT CAN DO:
$36 Provides flashlights for patrols in Sde Boaz
$180 Provides medical kits for emergency response units
$360 Provides food and supplies for a family for a week from our Abraham's Bread feeding center
$500 Provides a set of military-grade radios for Sde Boaz
$1800 Provides lifesaving medical equipment
All contributions to Eagles' Wings are tax deductible, less goods and services received, as allowed by law. The Board of Directors of Eagles' Wings reserves the right to distribute funds as needed.
Pray for the peace of Jerusalem: "May they prosper who love you." – Psalm 122:6